kintone
kintone is a cloud-based DB service without coding, allows managers and employees to collaborate, track project task statuses, view purchase orders, manage time sheets and much more.
– Build Apps – Build applications quickly and easily. No coding required.
– Collaborate – Ideas, teams, and projects come together with kintone.
– Automate – Supercharge your business processes using workflow automation.
Additionally, kintone provides REST API and JavaScript API for developers to build custom integrations, accessing to kintone records and creating one's own views with JavaScript/CSS.
kintone Café
kintone Café is a learning event or community for kintone. The first kintone Café was held in Sapporo of Japan by Saito Sakae(http://radical-bridge.com/) at Dec. 7th, 2013. Now , kintone Café are held about 30 times a year all over Japan .
kintone Café Grand Canyon Vol.1
We joined the optional sightseeing tour to Grand Canyon during AWS re:Invent 2015 in Las Vegas at 7th, Oct.
However the weather forecast for the day was heavy rain and thunder, it got better soon and was ideal for the sightseeing.
At Guano point, we stared to talk about kintone, … and then we had decided to hold "kintone Café Grand Canyon Vol.1" on the spot.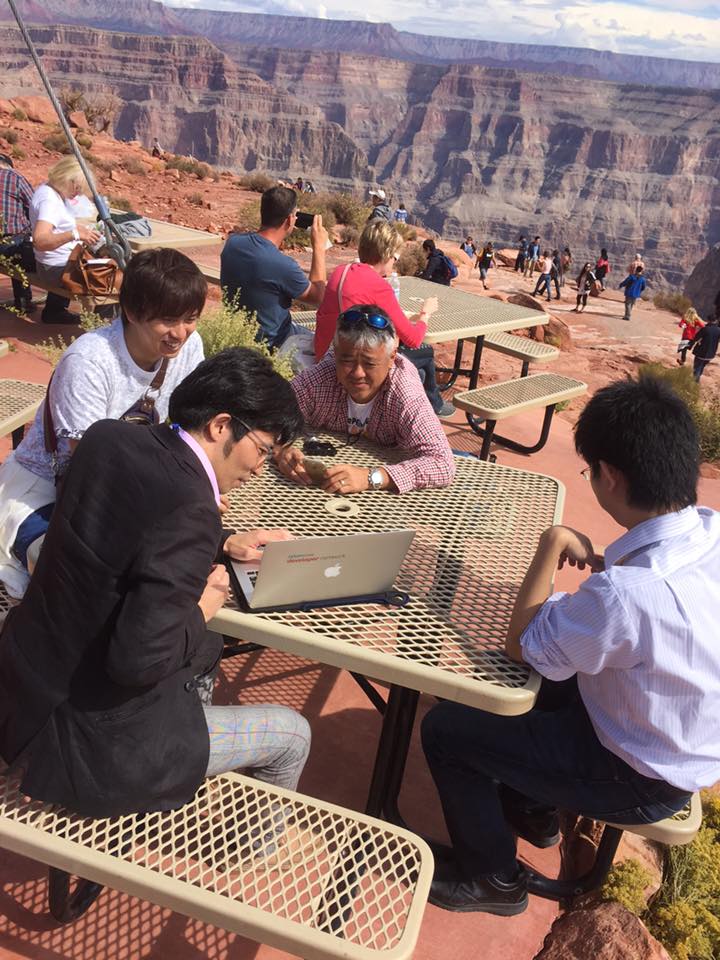 kintone EVANGELIST, Yamashita Ryu explained about the features of kintone and created kintone applications to demonstrate like he always do at kintone Café in Japan.
This is a kintone application that he created on the spot as bellow.
The "report app. of Grand Canyon" was created. We can archive photos and comments with places using their latitude and longitude coordinates. He added JavaScript customization later.
Everybody here seemed to understand how easy, fast and, flexible kintone is even though that event ended in ten minutes. They also asked questions, "can attach files with records?", "how to use for us(tour operators)?", and so on. We had a fun time.
Finally, we hope someone will launch Grand Canyon branch of kintone Café and hold "kintone Café Grand Canyon Vol.2" next year !!